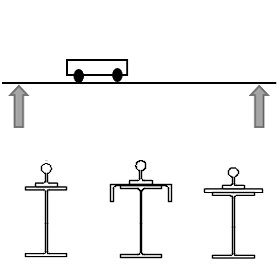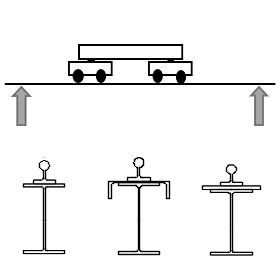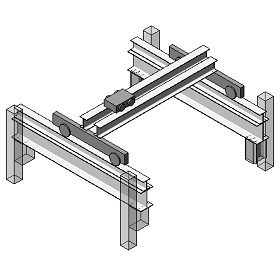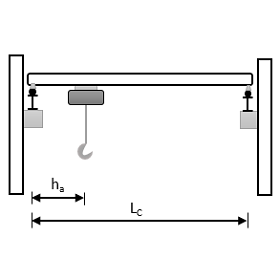 Crane Gantry Girder Design
The scope of this calculation module is to analyse and design a steel gantry girder section used to support overhead crane. The section profile can be either I section (rolled or welded) or built-up section (rolled I section with capped channel or plate). The section is checked for moment and shear capacity ratios along with deflection due to moving loads from crane.
Features
The girder's cross section can be defined using the following shapes:

Rolled I section

Rolled I section with channel

Rolled I section with plate

Welded I section

Wheel loads on the section is considered using the following options:

User defined wheel load

The user is allowed to input the wheel loads directly.

Crane details

The module calculates the wheel loads based on the defined crane arrangement.
Additionally, an option is provided to select the span position as interior or end span.
Effective length factor of the girder is calculated based on the restraint condition of the section which can also be defined by the user directly.
Design Considerations
The elastic and plastic section properties of the section are referred from steel table for standard sections and are calculated for built-up and welded I sections. For built-up section, combined section properties are considered for the calculation.
For direct static wheel load option, dynamic wheel and surge loads are calculated based on the dynamic factors whereas, crab load is calculated based on the crane class.
The program computes moment and shear capacity only for sections classified as 'plastic', 'compact' or 'semi compact'.
Forces in the lateral direction are considered to be resisted by the top flange of the section.
Weld capacity is checked for built-up section (rolled I section with capped channel or plate) alone.
Vertical and horizontal deflections are calculated and compared with allowable limit.
National Standards Available
British Standard
References
BS 5950-1:2000 - Structural use of steelwork in building - Part 1: Code of practice for design - Rolled and welded sections.
Revision
Ver 1.0 - Original version